Our Energy Demand Research Network gives researchers an opportunity to share knowledge, enhance research impact and enable community collaboration. Find out about our first meeting in Birmingham.
9 May 2019, Birmingham
Our Energy Demand Research Network gives researchers an opportunity to share knowledge, enhance research impact and enable community collaboration. To stimulate discussion, we focus on four areas:
International engagement
Data management
Business engagement
Policy engagement.
The two main objectives for our first network meeting were:
1. To learn what others are doing:
One page summaries of projects – see items filtered by 'Research network – members'
This event report
Discussions during interactive sessions
Informal networking on the day.
2. To think about future actions
Think collectively about the question: What can we do better together?
Set three levels for CREDS action:

This is worth doing and will be taken forward by network members but we don't need to be involved – though we would like to be kept informed
This is something we could facilitate
There is something we might fund.
1. International Engagement
a) International Energy Association (IEA) DSM – Nick Eyre
The Demand Side Management Technology Collaboration Program (DSM TCP) is an international collaboration of 16 IEA countries working together to develop and promote opportunities for demand side management (DSM).
The scope is load management, energy efficiency, strategic conservation and related activities. It is organised through a series of tasks and managed by an Executive Committee and the UK representatives are Peter Warren (BEIS) and David Shipworth (UCL). This is a particularly important time for the DSM programme, particularly as David is now Chair of the Executive Committee.
b) ECEEE – European Council for an Energy Efficient Economy – Joanne Wade
The ECEEE is a membership network of individuals and organisations who have an interest in energy efficiency. The ECEEE operates across Europe and does policy work at European level. It also runs Summer Studies which happen every two years and are 5-day events in the South of France. The structure of the summer study comprises 9 panels of peer-review discussion in the mornings and each afternoon there are informal sessions, with the rest of the time for networking.
ECEEE is involved with a number of European funded projects with multiple partners looking at various elements of energy demand. It is essentially one giant international network and if you are thinking about bidding for any European funding the ECEEE can give you access to its network. There is a real opportunity for researchers in the UK to use ECEEE for any engagement. If you want to organise a workshop or event and are keen to invite people across Europe to come, ECEEE can help you organise it through its network.
c) CREDS Visitors: International Programme (VIPs) – Sarah Higginson
CREDS is running an International Visitors Programme, which is not just for researchers but also policy and business people. They can either do a fellowship or a secondment. Visitors would be located within any of the CREDS themes or challenges, or possibly at one of CREDS' partners or at Oxford in the core team.
The programme will be launched at ECEEE in early June. The first call is going to be a pilot, but then it will become an annual programme. The CREDS website will have more information and an application form available from early June.
There is a £280k budget and the programme offers a mixture of financial and non-financial support. It forms part of the Equality Diversity and Inclusion strategy.
d) European Energy Research Alliance (EERA) – Kajsa-Stina Longuere
EERA is the most influential energy research community in the EU & globally. EERA has 50,000+ experts across 250+ organisations in 30 countries.
EERA's mission is catalysing European energy research to achieve a climate-neutral society by 2050. EERA undertakes integration and knowledge transfer among European energy research stakeholders to increase efficiency in R&I and create a momentum larger than the sum of the individual stakeholders.
EERA is an integrated part of the European energy R&I ecosystem and builds on its unique expertise to advise EU on long-term decarbonisation scenarios and R&I investment priorities.
2. Data Management
a) Essex Data centre – Tadj Oreszczyn
EPSRC describes data as being "to validate research findings". Thus, one researcher's data can be valuable to others and, increasingly, effective data management is one of the tasks that researchers must undertake.
Data plans are an important part of any research proposal, and proposals are turned down on the basis of insufficiently rigorous data planning.
The good news is that there are plenty of resources to assist academics:
b) Smart Energy Research Lab (SERL) – Eoghan McKenna
SERL is a 5-year programme (to 2022) and is intended to provide smart meter data and a link to contextual data for the research community. It will recruit 10,000 participants with links to contextual and social data. An observatory will provide access via a secure platform to approved researchers and programmes. Data management is central to the project, which is developing best practice data governance.
It will be useful for field trials, as researchers can compare before and after data.
SERL should be open for business in Q1 2020.
c) UKERC Data Centre – Jim Halliday
The UKERC Energy Data Centre (EDC) holds both information about current energy research (for example, the Projects Catalogue contains information about over 6,000 publically funded energy R&D projects) as well as data for use by researcher. All the EDC's components are held in a database so can be easily searched, and the EDC is also linked to the Energy Knowledge Exchange (EKX) system which UKERC has developed with the Energy Systems Catapult.
The Data Centre is currently adding data and publications received from the Energy Technologies Institute (ETI). Anyone can access the data via the Data Catalogue, however, some data is restricted so the user is required to accept the dataset's Terms and Conditions before access can be granted. The EDC staff can help to users to deposit data, with appropriate documentation, including curated data and metadata links.
d) Energy Data Taskforce – Eric Brown
The intention of the Energy Data Taskforce is to provide a set of recommendations that will support the delivery of a modern, digitalised energy system unlocking the benefits of decarbonisation and decentralisation through better use of data. Its focus is on system data, not consumer data. It is sponsored by BEIS, Innovate UK and Ofgem, and chaired by Laura Sandys. The project started in October 2018 and is due to deliver its findings in June/July.
The Taskforce has tried to engage with the sector via events and meetings and has developed a series of principles to apply to data generally. These include a presumption that data is open (but still has to be looked after carefully); that it should be discoverable, searchable and understandable; common structures and standards should be used where appropriate; and measures must be taken to assure security and resilience.
Recommendations are starting to emerge, which when complete, will be delivered to Government, the regulator and industry.
e) Data management – Charlie Wilson
Charlie explored how to make qualitative data available, using an example drawn from on a smart homes project covering 20 homes over 2 years (pre-GDPR).
Making qualitative data available requires:
a very involved consent form and university ethics processes,
creating data transcripts and carefully anonymising all data,
producing a meta-data file (detailed descriptions) and using ESRC's ReShare data repository which can also track who is looking at and downloading files; and
this data is stand-alone, but also linked to survey and smart meter data.
Qualitative data is rich in contextual information, so there are huge, beneficial opportunities for combining quantitative and qualitative data.
3. Policy Engagement
a) BEIS – Jeremy Vincent
Jeremy identified two ways of engaging:
Formal: Such as monthly bulletin, CCC, Clean Growth, Industrial strategy, consultations, committee enquiries, etc.
Informal: BEIS has 2 big policy groups, one for demand, one for supply. Set up in the demand group as in table below, with about 700 officials. Director General Julian Critchlow. Recommend to speak to them early in project to look for common ground/ mutual interests
Policy
Analysists

Smart metering implementation programme
Energy efficiency and local
Clean heat
Clean growth
Industrial energy
International climate and energy
EU energy and climate change
Science and innovation for climate and energy

Scientists and engineers
Social researchers
Economists
Statisticians
Operational researchers / modellers
Their role is to give advice to ministers and design projects. They have sizable budgets and lots of their work is published, but not all. They also work with regulators, such as OFGEM, gas companies, and exchange data and knowledge (often commercially confidential so cannot be published). Ways for academics to engage include being peer reviewers, doing presentations, sending findings in accessible ways, and inviting them to events.
Main contacts Jeremy (social science) and Jon Saltmarsh (science and engineering) – mid level in organisations
Questions
Are there overarching structures like the ones OFGEM has? There used to be at DECC but not in BEIS but considering restarting this.
Where does fuel poverty sit? Energy efficiency and local?
Are there 'owners' of data (like a centralised body) or are data owned by individual policy strands? Depends on area – modellers have their own data, statisticians have duty to put their data into the Essex data centre
b) CCC – David Joffe
David recommended that emissions targets be underpinned by analysis/ best assessment of the route to go. This does not mean this is the only way to do things (CCC can seem to be conservative on demand side) but they need to engage with a range of views and perspectives. Their latest work stresses the important role for demand, particularly in relation to where it is impossible to get to zero emissions (e.g. diet rather than transport). The2 050 net zero target will hopefully be legislated shortly and the sixth carbon budget due next year offers an opportunity for a wider range of pathways. They recognise energy demand is part of this process and would like to work with CREDS as part of this, for example, a low demand scenario underpinned by evidence, with the aim of giving choices to government. We could also reach out to the wider hub to work on this.
CCC is a statutory body but has no role to recommend policy (he joked that their recommendations are often ignored). However, he did have some advice/ experience:
Explain why what you are talking about really matters
Relate to what they are thinking about
Give practical policy suggestions, examples and actual policy suggestions.
Working with CCC helps to broadcast to government and wider world.
c) CIE-Map – Dustin Benton and John Barrett
Green alliance (Dustin Benton)
They worked with CIE-Map on a report about Carbon reduction through resource efficiency, a 'serious, not sexy' subject. He recommended focusing on:
What the message you are conveying can do for the audience and why it is important.
Relating to how significant this is in terms of policy (i.e. you would be on track if you did what we told you to)
Pulling out what this means and explaining how to do it
Underpin with proof points
In other words, provide simple messages, suggest things they can do, give them confidence that there are layers of robust research underneath the simple stuff you are telling them. Remember also that they care about people as well as about the technical and although this can make the story more complicated and so harder to tell, it also helps people realise this is real. Finally, repeat, repeat, repeat. Tell your story in lots of places. Persuade the persuaders.
d) CIE-Map – John Barrett
Working with people who understand how to achieve impact is really useful and they learned lots of lessons:
Sharing networking responsibility is important. It is not about an individual but about a collaboration.
Engagement is not an exact science. Work hard, be part of networks, and take opportunities that appear.
It can be helpful to align findings with current political thinking and what could be achieved in budgets. On the other hand, there's a danger of inherent conservatism (e.g. we've had an 80% reduction target for 15 years despite us knowing it's not enough). These two positions are not mutually exclusive.
Be challenging but helpful. Try to respond to short-term requests within the team (it is not letting go of academic rigour if you make it clear what the constraints are)
Set up a regular connection. For example, they provide indicators to DEFRA and regular flow data and they have a weekly call with a cross departmental group. This helps them be relevant.
John also stressed the value of working with someone like Green Alliance
e) Regulatory Assistance Project – Jan Rosenow
Jan outline three things they did that were effective
They work regularly with the head of DG policy Paul Hodson, briefing him every week and building a relationship
They develop material that is accessible but technically solid, and explains necessary steps to design policy
They use international examples, which they find very effective and policy makers often ask for more details and even have workshops
He also made three observations about engaging with policy
Be patient and persistent. Repeat the message. It takes time.
Maintain your independence. As academics we are seen as credible.
4. Business Engagement
a) LoT-NET – Graeme Maidment
LoT-NET is about heat networks. A key part of the UK strategy is about developing heat networks. LoT-NET is a low temperature ambient loop network.
It is a 5-year programme funded by the EPSRC and my role is effectively about dissemination and exploitation.
LoT-NET is not a new area – we want to work with heat network projects which are already running to capture learning and move this discipline forward. We hold workshops to engage with our industry and the meetings tend to be packed out. We work hard to engage with our industry.
Developing our researchers is really important too. An example is placing a focus on developing careers in refrigeration for women.
We are also working with Mission Innovation collaboratively to run joint events to engage with our industry.
b) Energy Systems Catapult and SMEs – Neil Whittaker
The mission of Energy Systems Catapult, which is based in Birmingham, is to realise decarbonisation across the entire energy system. It achieves that by setting challenges and seeking to resolve them.
It has a range of assets and capabilities, including a living lab which takes data from about 100 households across the UK.
One of its service platforms is the 3-tiered Innovator Support Platform that integrates services alongside partners. The three tiers are:
Universal – standardised support available to all SMEs including access to partner relationships (200+ SMEs per year)
Incubation – tailored support for selected SMEs using assets and capabilities, and delivery partner offerings (12+ SMEs per year)
Acceleration – scale-up support for selected high-impact potential SMEs and links to investors (~4-6 SMEs per year)
c) CREDS – Kay Jenkinson
CREDS has a very clear mandate to engage with business to reduce energy demand across the UK. The business community has a huge amount of knowledge that we want to draw on. There is a huge role for business as energy demand reduction champions across the UK.
Some principles and strategies that CREDS is using when engaging with business:
Understand the audience
Listen, read, observe
Provide relevant information
Use language, issues and contexts that are familiar
Bespoke, business-facing content (online, print…)
Where does business get its information?
Professional and industry organisations
Trade media
Academia (if we are relevant)
A long-term relationship:
Key stakeholders on our Advisory Board
Individual researchers have ongoing links
5-year programme = we have time to develop new contacts
d) Charted Institute of Building Services Engineers (CIBSE) – Anastasia Mylona
CIBSE is a membership organisation with more than 20,000 members internationally, mainly building services engineers but increasingly from other backgrounds.
It is a provider of technical guidance and environmental data for the design of buildings and their systems, with a focus on environmental performance of buildings for current and future climate.
We work with research to provide very practical outputs for our members in industry. Examples include climate and weather information for building performance analysis, design guidance to tackle overheating risk and energy benchmarking.
Researchers should seek early and meaningful engagement with industry as well as a clear understanding of outputs relevant to industry.
Industry should consider if research has already answered questions and if they haven't they probably have the resources and the motivation to answer them.
5. Walk and talk session
Nick Eyre made some observations on the flipchart notes from the sessions. These are based on a first look at the 'one key message' raised in the individual groups
What we can all do: The hub would like to increase the impact of what we do. We should use existing platforms where we can, and consider paying for others (knowledge exchange specialists, policy NGOs, consultants, business intermediaries) to help with specific roles. We are focused on energy but should look across other subject areas to learn about how they deal with cross-cutting topics e.g. data and policy.
Where CREDS can help: We could develop case studies and promote them. We will take away the idea of creating a data-sharing catalogue. There is agreement that we can work together better on knowledge exchange to business and policymakers. There may be opportunities to organise the groups thinking about some crosscutting work on certain topics, such as links between health and energy demand. Our international role is important, as climate change is a global problem. The UK government likes to claim leadership in this area (Carbon targets) and we could tap into this motivating factor and use it to our advantage. We are already bringing people to the UK (e.g. through the CREDS Visitors International Programme) and could look at supporting outwards visits to boost knowledge exchange beyond the UK.
Influencing UKRI: There is interest in the idea of professional standards in relation to data management. There are concerns that the structure of funding needs to be more joined up in order to maximise opportunities for enabling impact.
The UK Government aspires to a global leadership role in energy and climate change negotiations, policy development and implementation. Many countries look to the UK for ideas and we (and our research) can help shape that leadership role. Lots has changed since CREDS started its planning in the last 12-18m, particularly in relation to the increased public discourse on climate change (Extinction Rebellion, school climate strikes etc.) and we need to take advantage of this to get demand up political, business and public agendas.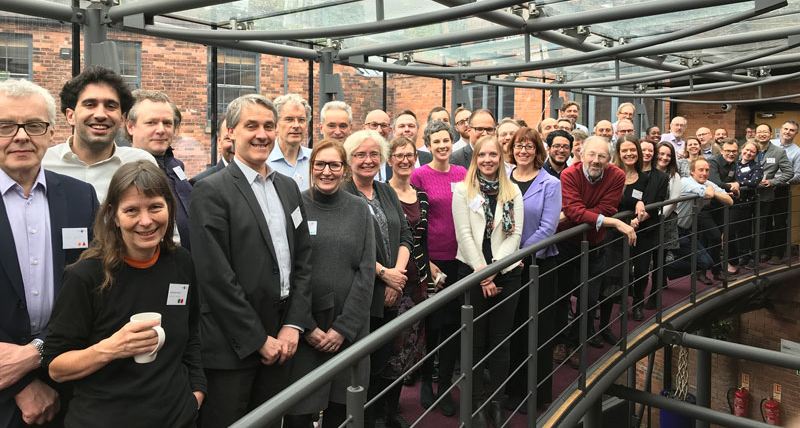 Banner photo credit: Banter Snaps on Unsplash