Gesche Huebner has been road-testing a cargo bike with a young family – it's been a transformative experience…
I stopped owning a car in 2010 when I moved to London where a bike and public transport were enough to get anywhere. In 2015, I moved to Cambridge where my first daughter was born. A normal bike with a bike seat was enough, but after our second child was born in 2018, logistics become much more challenging and we got a cargo bike.
We have a Bakfiets, to be precise, the one with the heavy wooden box in front. And it has been transformative! We converted it to electric in 2020 – the children had got heavier and the trips longer. The bike feels great to cycle on, nice and sturdy, with a chain guard and mud guards, easy and stable to park, low instep – perfect for cycling sitting nicely upright and wearing a flowing summer dress.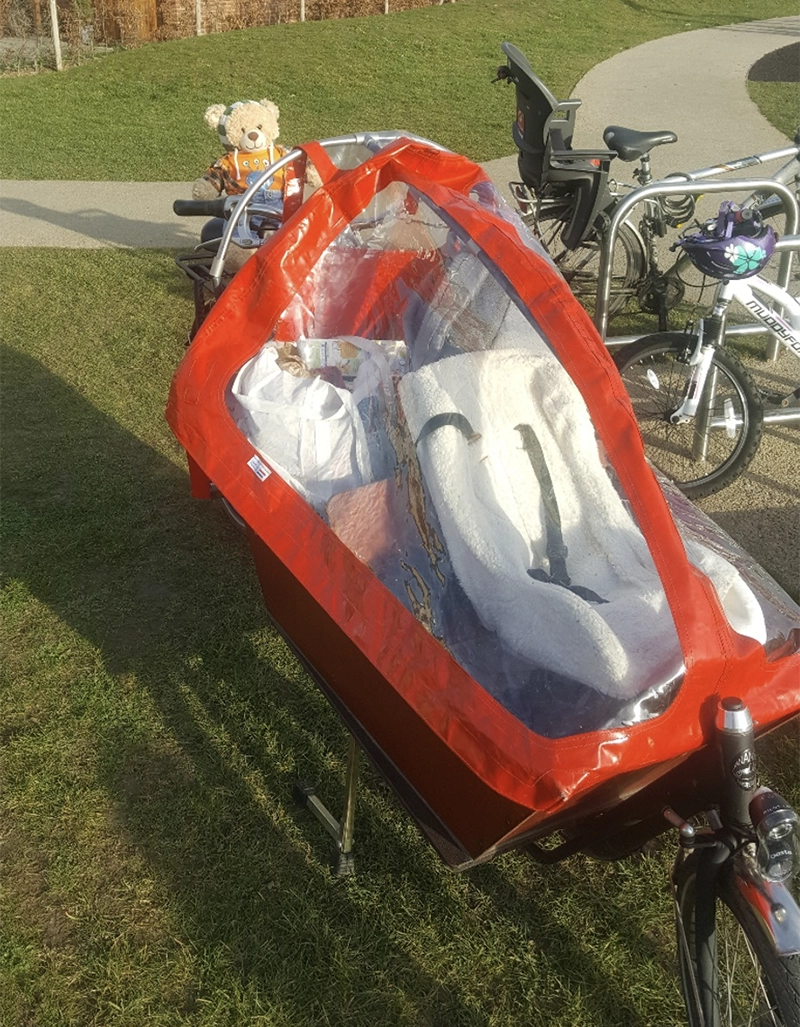 Within a radius of a few miles, everything is possible – taking two little human beings to school and nursery, taking the cat to the vet; transporting both kids and their bikes (small ones, though, 14 & 16 inches), supermarket shopping, bringing home the Christmas tree, prepping the forest school birthday party…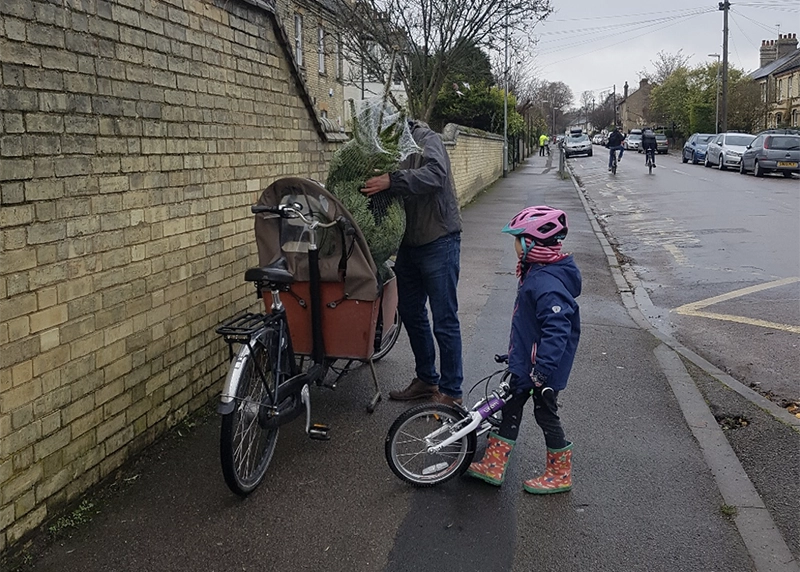 The proudest shopping moment might have been transporting two heavy metal window boxes, two bags of play sand, a bag of compost, eight plants, gutter cleaning equipment with telescopic pole, and of course, the two kids and a backpack with the obligatory snacks.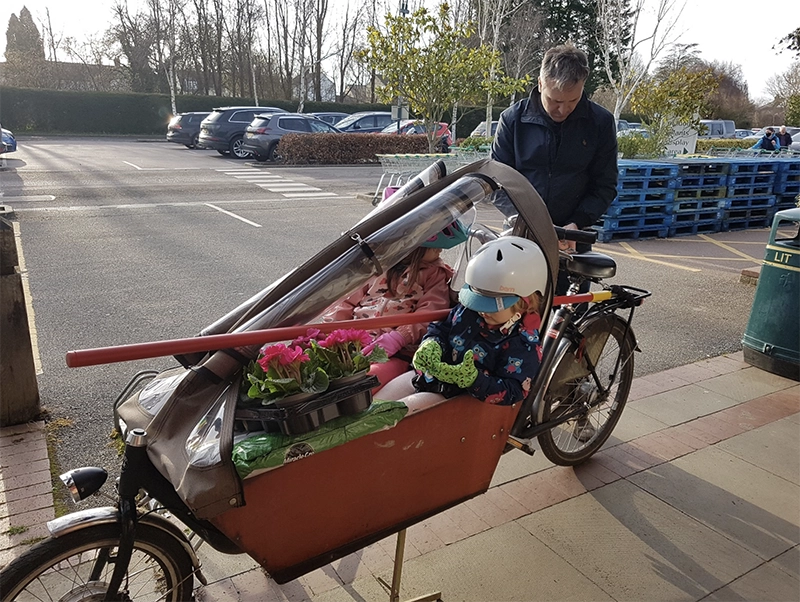 We often go on weekend outings by bike – be it to local forests and nature reserves or pubs hidden away in the countryside. The kids love sitting in the bike; they might read books, try to spot wildlife, eat snacks, talk (a lot) and fall asleep (the little one).
Can cargo bikes replace cars?
But – I think there are some big buts that we need to address to get to the point where cargo bikes really replace cars (instead of being the "second car"):
A big issue is around accessibility – the vast majority of places within the UK are not easily accessible by public transport whilst being out of easy reach for cycling – be it to reach one's place of work or to see family members. Neither of these is the case for us, but essential for many people I know.
Some aspects of accessibility are luxury problems, of course, and the issue of differences in the accessibility and affordability of access to places in this country has much wider justice implications. But I do think the limitations of being without a car are a significant barrier for people who would like to stay at a holiday home off the beaten track, who want to be able to visit various farm or strawberry picking fields that happen to be in the countryside.
We have two National Trust properties close to Cambridge; one about 6.5 miles, one 10 miles on the bike, one-way. Absolutely doable on a nice, warm, long summer's day where the trip becomes a fun part of the outing. But no fun on a cold, dark winter day to see the Christmas lights. Also dangerous, as part of the route is entirely unlit and really dark.
It is not permissible to take cargo bikes on trains. In any case, it would be tough to take them if you have to go upstairs or use a lift to reach the correct platform – they are simply too big and heavy. Lifting them up the step to get into the train would most definitely be a two-person job.
Car clubs – often mentioned as a solution when it comes to going to places further away are a great invention; but I have found that especially for bank holidays / weekends bookings for a full day are quite hard to secure, and it removes the option of spontaneously doing something.
Maybe it already seems like a fading memory – when we needed a Covid test quite early in the pandemic, the nearest walk-in centre with available time slots was 15 miles away – and my daughter was way too poorly to be transported that distance on a bike on a cold, wet day. With a car, no problem.
Where do you park a cargo bike? Cambridge for example has many terraced homes and residential streets where cars half park on the sidewalk, leaving no space for cargo bikes, especially when bins are out – and plus, sidewalks should allow walking and already with half a car on it, that gets tricky.
Cargo bikes often don't fit through narrow alleyways and or 90 degree turns to reach back gardens. Cars can park for free in the streets but there is no provision for cargo bikes, such as somewhere to chain them to. Plus, on-street parking (unprotected) carries the risk of vandalism and theft – we certainly had someone trying to steal our bike that we need to park out in the front of our house.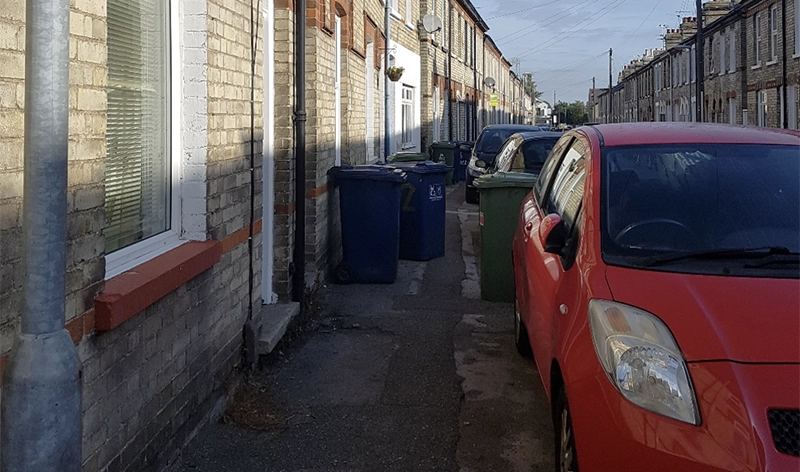 And whilst the train station has a dedicated section for cargo bikes, most bikes parked there are not cargo bikes!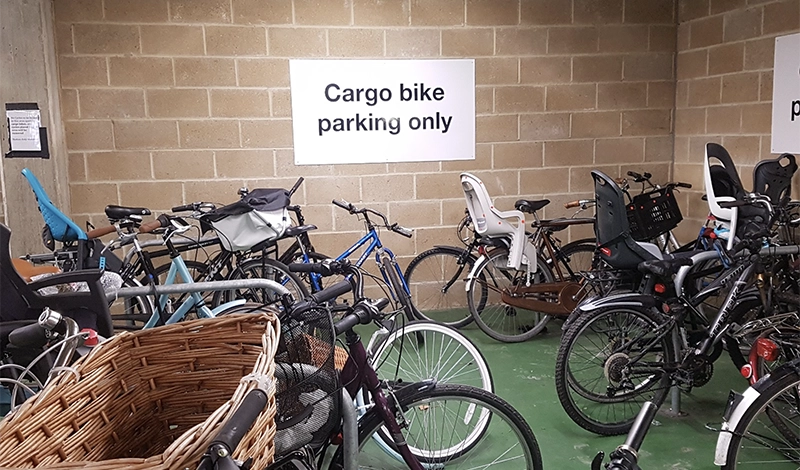 Cargo bikes are not cheap! The basic Bakfiets starts at approximately £2,000. Make it electric and you can add the same amount again. Yes, once you take running costs into account, this will be cheaper than a car but still not affordable for many people.
I don't think bad weather is an argument against cargo bikes – the children are sheltered from rain and wind; in winter, when we plan a longer trip, we give them blankets and hot cushions. Very strong wind can make the cargo bike feel wobbly, especially when empty but, so far, I have only had that once since 2018. Thunderstorms – I try to avoid cycling in them though apparently any risks are quite low; again, though, not that common an occurrence. In really cold weather the children do start to complain of feeling cold during longer trips and if it is icy or snowy, it can get slippery – this too does not happen often, and walking and driving can also be dangerous in those conditions.
I will leave it to others to lay out exactly what changes we need – for me, new public transport connections, more and better bike lanes, better bike spaces on trains, parking solutions for cargo bikes and a reduction in motorised traffic are all important.
Final thoughts
I much prefer cargo bikes to trailers because the children sit in front of me, so it's much easier to point out things to them and talk to them, intervene if they are arguing, sneak them a biscuit, and just generally keep an eye on them. Also, they are more spacious than trailers especially for transporting long items. I prefer cargo bikes to trikes because they are narrower, hence easier to cycle through gates and park on the sidewalk. Obvious advantages over bike seats – the ability to transport more than one child and lots of other stuff; and children can go into cargo bikes at a much younger age than on a bike seat.
Cargo bikes come in short and long versions – I would always take the long one as with children comes stuff and it allows up to four children. Weight- and price-wise the difference isn't that large.
Would I go electric? Yes, definitely, when wanting to transport heavier items and reach further away places or living somewhere hilly – probably not worth it for a 3 mile school run in a flat place like Cambridge.
Did I ever regret getting a cargo bike? No!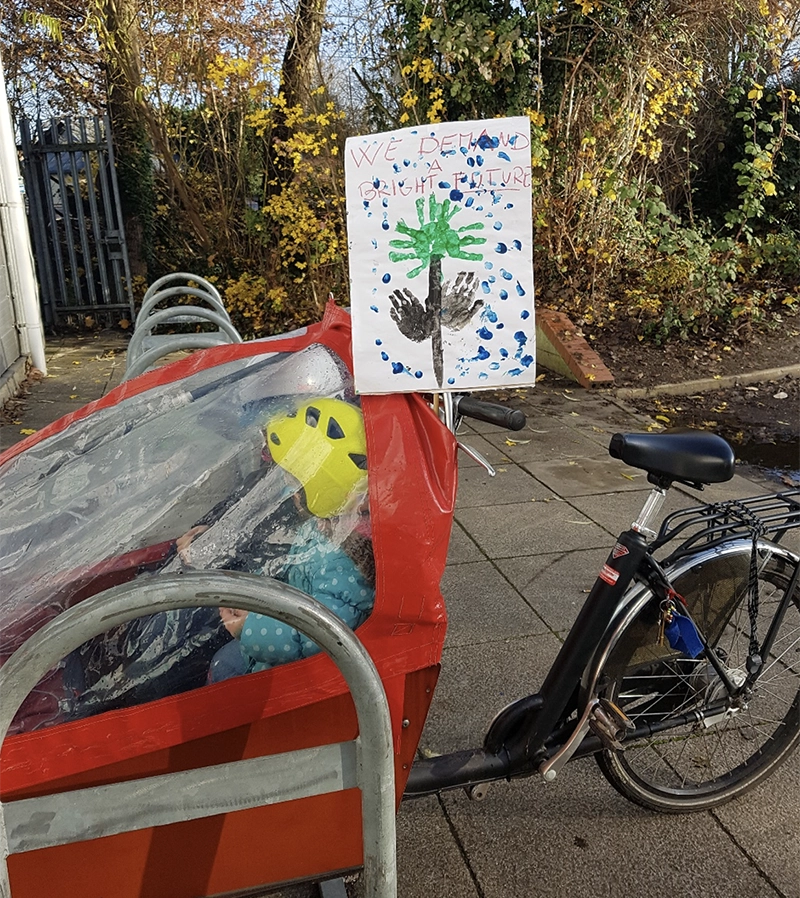 Banner photo credit: