CREDS is a research centre established in 2018 with a vision to make the UK a leader in understanding the changes in energy demand needed for the transition to a secure and affordable, zero-carbon society.
What is energy demand?
Energy demand is about energy use: how much, but also the key drivers, the fuel type and when it is used. Find out more about energy demand.
What is the challenge?
The overarching challenge is to move to an energy system that is secure, affordable and sustainable.
Improving the efficiency with which energy is used helps with all of these. Understanding how to do this, technically and socially, remains an important goal.
The drivers of energy demand are energy services, like comfort and mobility. In developing countries, demand for these will continue to rise to address poverty, but in developed countries, like the UK, the links between consumption and human welfare are less straightforward. Understanding how different practices drive energy demand, and how these practices might change, is therefore also important.
The UK is committed, under the goals of the Paris Agreement and the UK Climate Change Act, to move towards a zero-carbon energy system. This radically changes the energy demand challenge, as it can only be delivered by combining reduction in energy use with switching to the use of decarbonised fuels.
Zero-carbon energy supply is likely to be dominated by variable renewable sources, such as solar and wind. This increases the challenge of balancing supply and demand. More flexible demand could make a major contribution.
What are we doing?
Our aim is to understand the role of energy demand change in accelerating the transition to a zero carbon energy system, including the technical, social and governance challenges of demand reduction, flexible demand and use of decarbonised energy. Studies of incremental efficiency improvement and minor behavioural changes will not be sufficient; attention to more transformative change is needed. This changing context for energy implies new research questions in the areas of technology, business models, social change and governance, and in their interaction. Our vision is for energy demand research in the UK to rise to this challenge.
Our work looks at three energy use sectors and three cross-cutting issues within this context.
We also work on more specific projects within the following areas:
Who are we
We are a team of more than 140 academics at 24 academic institutions across the UK. A core team, responsible for programme management, communications and knowledge exchange, is based at the University of Oxford.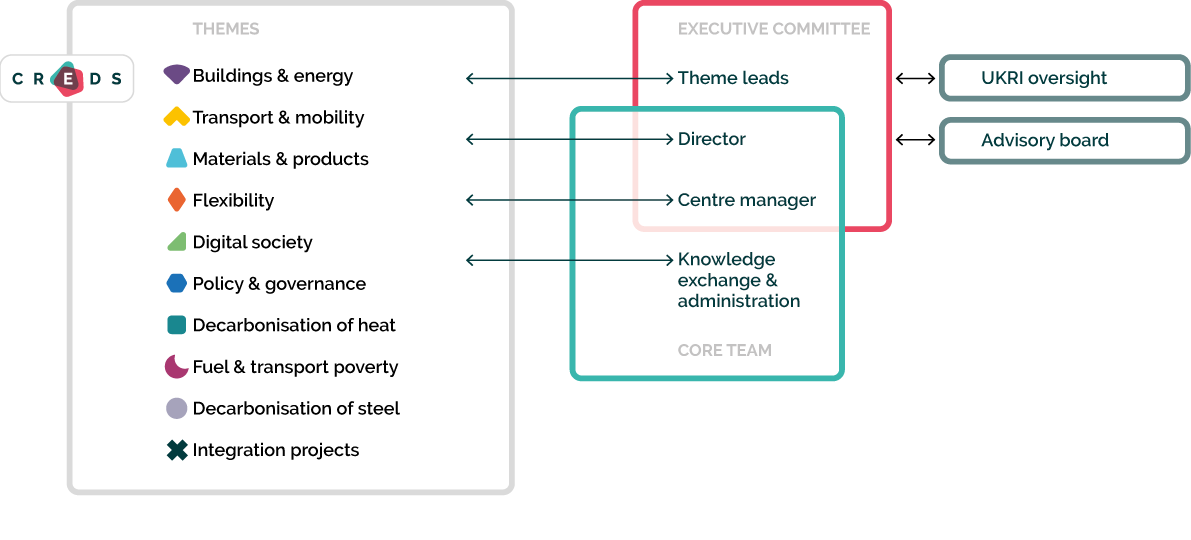 Read our Equality, Diversity and Inclusion Plan
Image description: CREDS structure – the project is led by the Director with support from the Centre manager and the core team. The Executive committee consists of the Director, Centre manager and the Theme leads. The UKRI has oversight of the project, as does the Advisory board. The 9 project themes are: Buildings & energy, Transport & mobility, Materials & products, Flexibility, Digital society, Policy & governance, decarbonisation of heat, Fuel & transport poverty, decarbonisation of steel plus three integration projects.
Banner photo credit: Andrew Haimerl on Unsplash