The Flexibility team has developed a certification framework to assess the Demand Flexibility potential of individual buildings.
As we move towards a net-zero society, energy systems will be ever more reliant on Demand Flexibility. At the moment, however, the role of Demand Flexibility as a system resource is still being consolidated, and there's a lot more work to be done in terms of defining the net-zero policies relevant to the standardisation of Demand Flexibility metrics and increasing the 'visibility' of the Demand Flexibility potential itself.
Buildings are a key sector for Demand Flexibility. However, up until now, the Demand Flexibility potential of this sector has been largely untapped.
This can be largely attributed to the lack of robust frameworks that allow for producing reliable and consistent estimates of the Demand Flexibility potential that individual dwellings or buildings could afford to provide.
To address this issue, the CREDS Flexibility Theme have set out to develop a Demand Flexibility Certification Framework that aims to fill some of the void in the net-zero policy space, allowing for a structured assessment of the Demand Flexibility potential of individual buildings.
Demand Flexibility Certificates are akin to EPCs in the sense that they provide buildings with a rating, only that instead of being for general Energy Performance, they are specifically intended to summarise the potential for providing Demand Flexibility at the building level.
Having the ability to produce Demand Flexibility Certificates would prove highly beneficial as it would serve three main purposes.
Firstly, a Demand Flexibility Certification framework would allow for identifying opportunities to improve the Demand Flexibility potential of individual buildings / providers. Having a clear idea of both what is available and what is achievable is a necessary first step when it comes to engaging in Demand Flexibility provision. Therefore, any prospective Demand Flexibility provider would be better able to do so if guidelines and frameworks exist that allow for a systematic analysis of the Demand Flexibility potential of an individual building or combination of buildings.
Secondly, a detailed mapping of the Demand Flexibility potential of individual buildings would provide reliable pictures of both the current state of, and prospects for making use of, such Demand Flexibility potential at the local, regional and national levels. In the first instance, this can inform system planning and management decisions in relation to network reinforcement needs and temporary buffering opportunities.
Thirdly, understanding how much we can use existing Demand Flexibility in different areas, like local, regional, and national levels, will show where it is most important to invest. This will help make Demand Flexibility even stronger, especially in places where network constraints are most problematic, and reinforcements are too difficult or too costly. Whenever it is determined that the need for network reinforcements is unavoidable, this can also help in identifying the parts of the network which should be placed at the top of the list of priorities.
In essence, a building's Demand Flexibility Certificate would become a currency of sorts, which would allow both prospective Flexibility providers and users to quickly and reliably assess the value that a building could offer. This would, in turn, be reflected in a Demand Flexibility market that is able to operate in a more efficient manner.
Our vision for a Demand Flexibility Certificate involves a thorough assessment of the different components that contribute to the overall ability to increase, decrease and shift demand loads from within the building envelope.
To this end, we make a distinction between the three broader categories towards which each one of the components might contribute:
Basal flexibility – This constitutes the Demand Flexibility potential that is directly related to the physical properties and energy performance of the building fabric itself. This is primarily determined by the extent to which we can leverage the building's ability to keep indoor temperatures stable to support Demand Management.
Heating / cooling flexibility – This constitutes the Demand Flexibility potential that can be directly harnessed from the central heating/cooling systems, as well as any coupled heat stores such as hot water tanks. Both the magnitude and the quality of the Demand Flexibility that can be harnessed will depend on the heating/cooling system characteristics.
Additional technology-enabled flexibility – This includes any other sources of flexibility that could be harnessed through any existing Demand Management systems. Examples of the flexible loads that could contribute towards this are smart EV charging and other smart appliances.
Capturing the complex dynamics involved in estimating a building's Demand Flexibility potential would be difficult using a tiered rating system such as the one used for EPC ratings. Thus, in order to better capture this complexity, we implement a grid rating framework that rates the Demand Flexibility potential across two key dimensions: Magnitude and Quality.
We focus on these two dimensions primarily with the aim of providing an overview that is informative and meaningful enough, and provides an adequate level of nuance, but at the same time, does not add too much complexity when it comes to reading the Demand Flexibility Certificates of particular buildings.
The table below in Figure 1 provides a visual representation of the proposed rating grid to be used as part of the Demand Flexibility Certificate framework. The Nominal rating corresponds to the overall Magnitude of the demand increase/decrease that could be delivered [kW], whereas the Quality rating provides an indication of how readily the Demand Flexibility potential can be harnessed, and is a function of factors such as how often, how fast, and for how long can the flexible demand responses be delivered (i.e. response rate [kW/second], frequency [events/day], and duration [minutes]).
Figure 2 provides an illustrative example of the way in which the information could be summarised in the form of a Demand Flexibility Certificate.
The research underpinning the Demand Flexibility Certification framework is a fundamental part of the research programme at the recently launched Energy Demand Research Centre (EDRC), where the new Flexibility theme will continue to build on CREDS' research on Energy Demand Flexibility. More information about the Demand Flexibility Certification framework is available on the EDRC website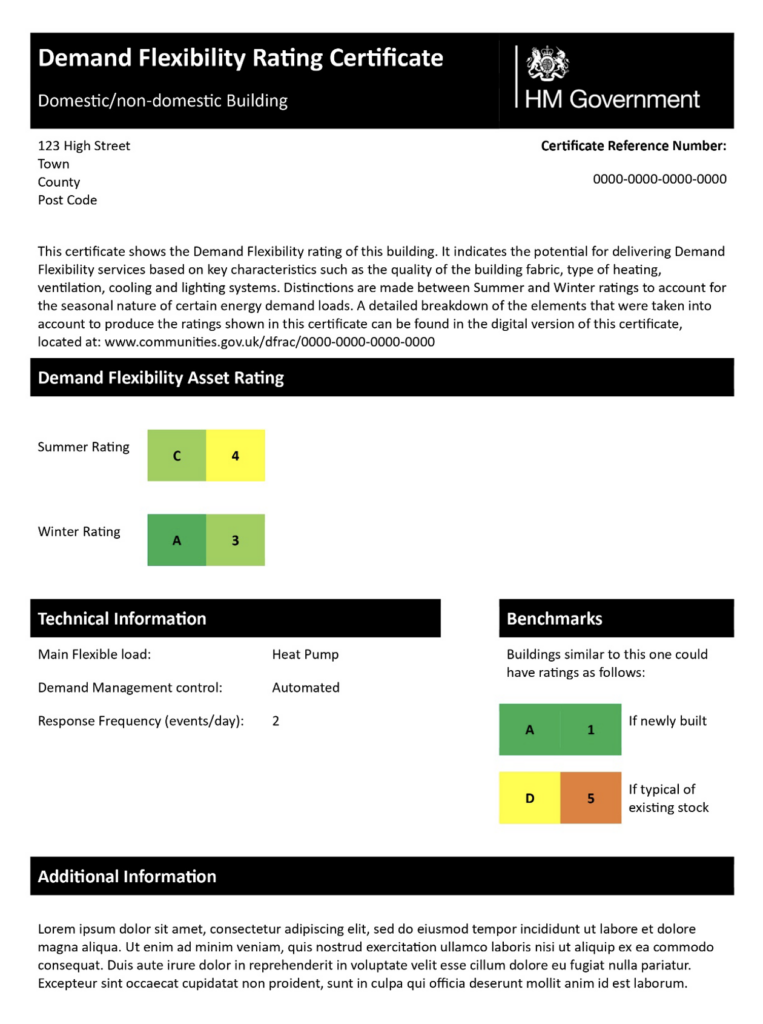 Banner photo credit: Gabe on Unsplash