Looking for activities to (virtually) get together and discuss low-carbon energy futures? There's now a game for that.
Looking for activities to (virtually) get together and discuss low-carbon energy futures? There's now a game for that.
For just over a year, colleagues and me in UCL Energy Institute's PACE Group have been developing the peer-to-peer energy trading board game Watts the Deal?.
In P2P trading, households and businesses can buy and sell electricity directly between each other rather than indirectly through an energy supplier. It's an interesting model because it could have benefits like bill savings and increasing returns on investing in renewables, both for individuals and communities.
At the moment, however, access to this sort of scheme is restricted to the handful of participants in trials like commUNITY in south London. We developed the game to make it easier for people to engage with the idea.
The game
In Watts the Deal?, players take the role of households who have to meet their daily electricity demand exactly using power from solar panels, batteries, and trading with other players and the grid. While it clearly involves massive oversimplifications of what would happen in a real trading scheme, we've found it helps promote really interesting and useful discussions about the design of such schemes and how the benefits could potentially be maximised.
We recently secured funding from UCL to develop facilitation materials so that partner organizations like Wadebride Renewable Energy Network could use the game as part of their own community engagement activities. However, social distancing measures put in place to help tackle the COVID-19 pandemic have put paid to such activities, at least insofar as physical meetings are concerned.
In response, we've now developed a couple of new editions of the game that we hope might be useful to different groups looking for activities to run when conventional physical meeting options are not an option.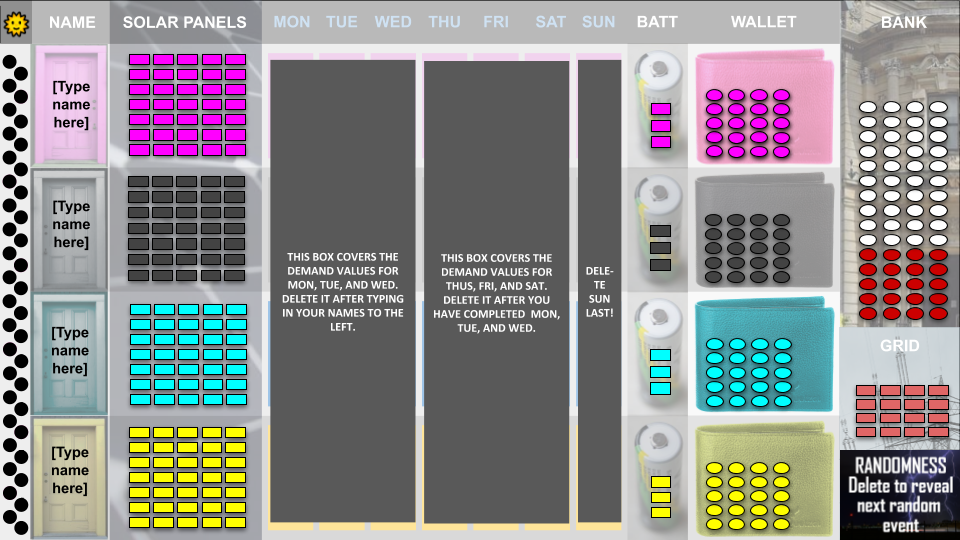 Together, apart
Firstly, we have put together a simple prototype online version of the game. Operated in Google Slides, it allows players to collaborate on the same board exactly as they would in the physical version, just doing all of their negotiations over video chat instead of in person.
The online version has simple instructions in the same Google Slides deck making it easy to get up-and-running and for anyone to facilitate a discussion using the game. It includes to the same different playing options as the physical version, including playing competitively or collaboratively, and playing as yourself or being allocated a random 'persona'. A list of starter discussion topics is also provided, but groups can tailor these to their own needs.
Secondly, we have also released a version which can be easily printed at home. Instead of the spinners and counters we use in our 'production' version, you can use whatever you have lying around at home to represent game components such as units of solar generation (how about sunflower seeds?).
We're hoping that families with children at home might see some potential in the game for keeping the children busy for a while (depending on how professional you want it to look, it could involve a lot of cutting out!). We also hope it could have some useful role in home-schooling, and as such we have started on a document with some ideas for teaching (suggestions for improvement welcome!).
If you are looking for excuse to get together and chat energy futures, please do give either version a try and share it with others you think could be interested (#WattsTheDeal). If you play, and you have suggestions for tweaks, hacks, and alternative playing options, be sure to leave a note on the Trading Zone section of the website so that others can benefit!
Watts the Deal? is developed by Michael Fell, Alexandra Schneiders, Anna Gorbatcheva, David Shipworth and Charlotte Johnson. Primary funding was from the EPSRC grant PETRAS P2P-IoET. Additional funding was received through the UKRI Centre for Research into Energy Demand Solutions and the UCL Bartlett Innovation Fund.
Banner photo credit: Alexandre Godreau on Unsplash