In this blog, Noel Cass argues that the decisions people make are determined by infrastructure – yet the government still treats these systemic determinants as if they are simply matters of consumer choice.
How households use energy varies from always-on appliances through heating, cooking, and driving, to big-hit carbon guzzlers like long haul holiday flights. And not everyone does the same. But policy tends to expect those who can't afford to pay, and those who can't change much about what they do, to pay for green policies through their energy bills. How can excess household energy consumption be targeted fairly?
Around 72 per cent of our carbon emissions arise from how we live our lives. Since at least 1998 the official line on climate action has been that "all sections of society down to the individual are 'responsible for taking decisions on a daily basis that will dictate the success of the climate change strategy'."
For over 20 years, government policy has largely relied on behaviour change to reduce household energy consumption. Essentially this has meant trying to convince people to buy different things and make smarter choices. But rising emissions over the past two decades tell us this strategy clearly isn't working.
At CREDS, through our Curbing Excess research, we have been looking at what household energy consumption is made up of and how it is distributed across society. We've tested ideas to see how our energy use might be fairly, acceptably and effectively tackled through different policy approaches, beyond simply relying on behaviour change.
The main areas of household energy use are summarised below. Home heating using gas and car use are prominent, followed by electricity, with flying being responsible for more emissions per capita than electricity in the wealthiest 30 per cent of households.
Annual energy consumption of different income groups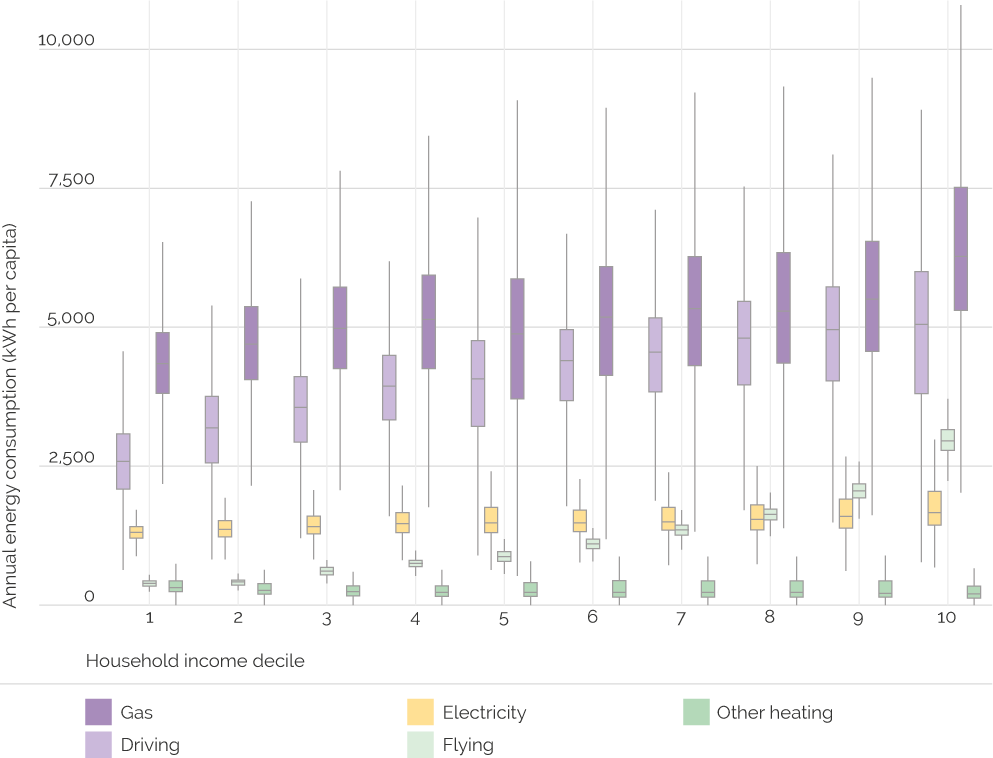 This graph also demonstrates that there are 'baseline' levels of gas and electricity use that do not vary much between different levels of income, meaning the lowest income groups are hit especially hard by rocketing prices. Climate policies should protect those for whom this baseline cost is a significant proportion of their income: that is why broader carbon taxes and income tax are fairer methods for 'environmental levies' than the current surcharges on bills. A fairer way still to fund green policies is to use carbon taxes that are compensated by universal green vouchers for free renewable electricity and public transport. This would achieve higher emission reductions and reduce energy poverty while expanding, and giving fair access to, these goods and services.
Twice as much energy is used for car travel, on average, in the richest households as in the poorest, but some poorer households are car dependent or living in transport poverty.  Mileage allowances and exponentially rising 'frequent driver' charges could be used to fairly discourage excess car use, without penalising those who really need to drive.
Finally, flying is not only the most climate damaging single behaviour, it is also the most unequally distributed, both globally (one per cent of the population are responsible for 50 per cent of flying emissions) and nationally (15 per cent of air passengers take 70 per cent of commercial flights). This distribution correlates with wealth too, as shown in the graph below.
Average number of flights per year in England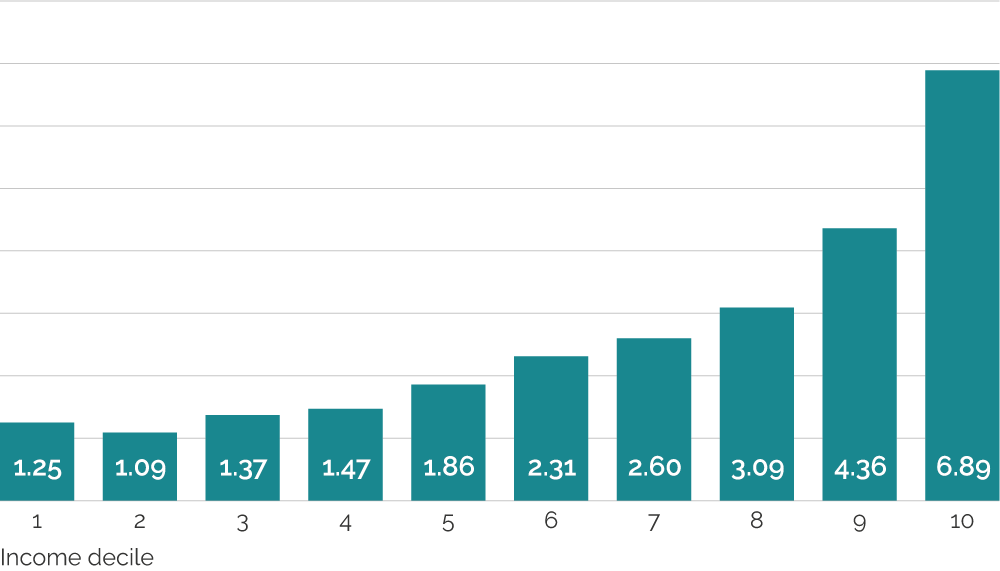 Banner photo credit: Jon Tyson on Unsplash