Our latest blog, by CREDS Co-director Tina Fawcett, looks back at the involvement of CREDS at this year's ECEEE Summer Study.
From 3–8 June, Europe's premier energy demand conference – ECEEE Summer Study – took place in France, and CREDS was there.
CREDS researchers and knowledge exchange managers were presenting a variety of academic papers and posters, running 'informal' research discussion sessions, launching the CREDS Visitors: International Programme and leading a workshop jointly with UKERC exploring Energy sufficiency: living well within the limits.
The theme of this year's conference was 'is efficient sufficient?'. This is partly a play on the full name of ECEEE – the European Council for an Energy Efficient Economy. More importantly, it reflects the desire of the ECEEE board and members to expand the focus of research and knowledge exchange beyond efficiency. The idea of sufficiency pervaded many of the keynote speeches, papers and informal discussions. It builds on a history of sufficiency research as presented in previous Summer Studies, and also ECEEE's current project on energy sufficiency.
The CREDS and UKERC workshop on sufficiency was led by Sarah Darby, University of Oxford, with assistance from Tina Fawcett and the CREDS team. Based on work Sarah and Tina had done for the ECEEE sufficiency project, the workshop explored the infrastructure and society-wide changes needed to deliver sufficiency. Sarah showed how the infrastructure of sports fields and dining halls enabled Oxford students to have recreation and food supplied with lower environmental impact. Participants came up with lots of creative ways to encourage and enable individuals and organisations to live within limits.
The workshop was also the venue for launching the CREDS Visitors: International Programme. In addition to the launch, Clare Downing and Sarah Higginson ran a specialist informal session with potential applicants to the programme. ECEEE attracts energy researchers, practitioners, policy makers, NGOs and businesses from across Europe and beyond, with around 450 people in attendance. This makes it an ideal venue for contacting potential visitors and for encouraging international links with CREDS.
Papers based on CREDS research were led by Nick Eyre, Marina Topouzi, Tina Fawcett, Jillian Anable, and Tim Chatterton, with contributions from other members of their teams. Tim and Jillian also ran a very lively and popular informal session on excessive energy demand – exploring and debating different types and meanings of excess. CREDS researchers, Mike Fell and Gavin Killip, also presented work linked to different projects.
Nick's paper was 'energy efficiency in the energy transition'. This looks at the links between renewable energy and energy efficiency in the low carbon transition, and explores a UK scenario where most energy is supplied via wind and solar PV. This shift to energy being produced as electricity (rather than fossil fuels) has consequences for how we measure energy, and the conversion technologies used.  Nick warns against the temptation to retain inefficient options such as boilers and internal combustion engines, in a future of energy delivered as 'work' and of falling energy demand.
Marina Topouzi and Tina Fawcett presented a paper and poster on different aspects of their work on deep retrofit of buildings. Their poster focused on 'the time dimension in deep retrofit'. To illustrate key ideas from both the poster and paper, they developed a 'hares and tortoises' retrofit game – a five minute board game illustrating some barriers to boosts to renovation, and how policy can help or hinder. Their poster won the judges' prize in the most informative category.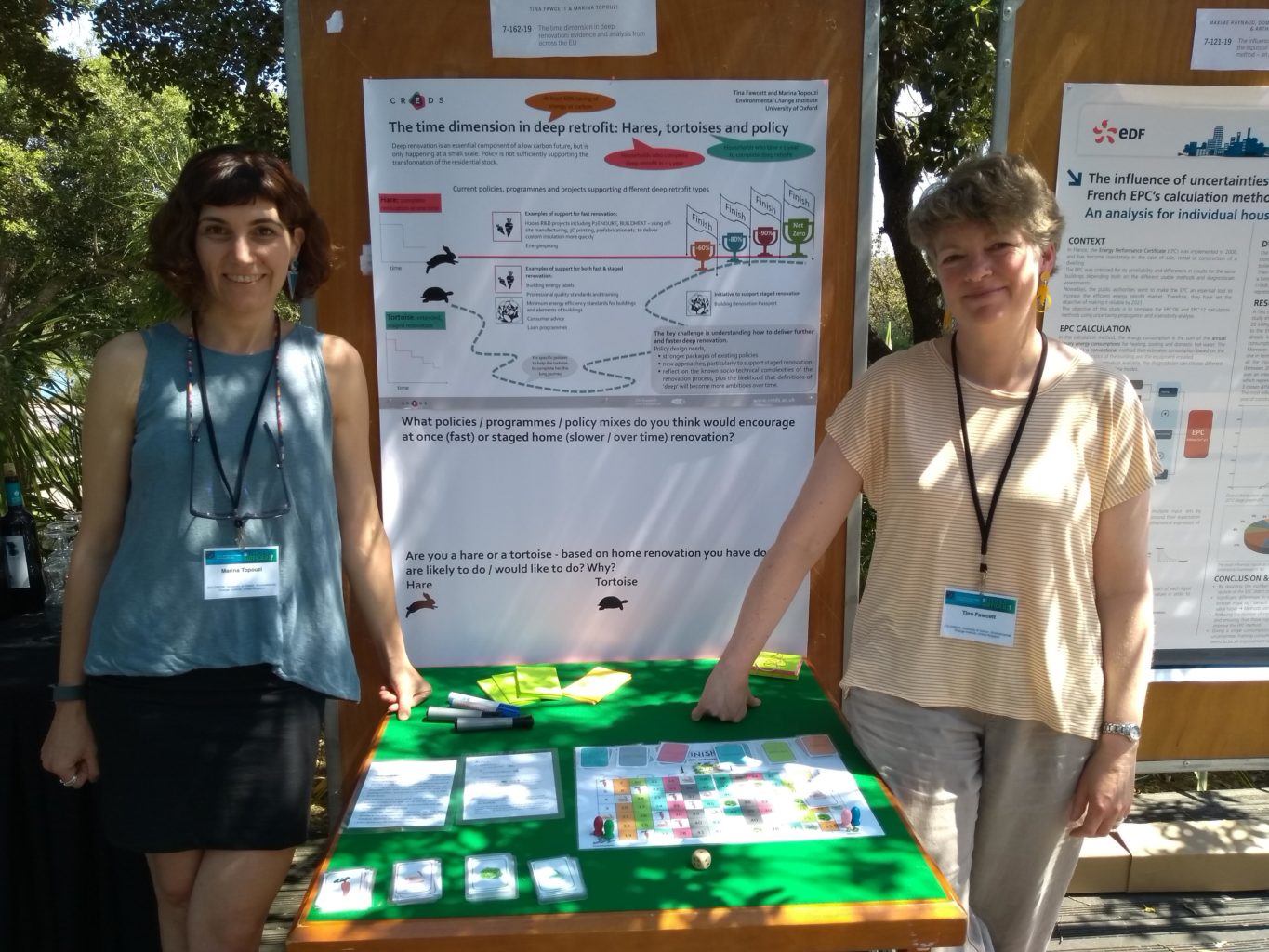 As always, the ECEEE Summer Study, provided an inspirational event for knowledge exchange across the whole range of CREDS themes. The focus on sufficiency fitted very well with calls from recent civil society movements such as the School Strikes for Climate and Extinction Rebellion for more urgent action. It also resonated with CREDS' central mission. Together, the CREDS group made a strong contribution to knowledge exchange and to the intellectual life of the conference, and our Visitors: International Programme will increase collaboration across Europe and worldwide.
Banner photo credit: Natalya Letunova on Unsplash