Greg Marsden, Jillian Anable, Jonathan Bray, Elaine Seagriff and Nicola Spurling
Summary
As the largest carbon emitting sector, and one which has yet to show any clear emissions reduction trajectory, transport is at the heart of the climate emergency and centre stage in the shift to a Net Zero economy. This inquiry into shared mobility takes, therefore, the position that more rapid and radical action is required to decarbonise the transport sector. More intensive use of fewer vehicles already offers a cost-effective, socially progressive and implementable set of options to cut carbon.
There is however no coherent national or consistent local policy framework for integrating shared car use within the wider set of mobility options. This runs from taxation, through management of the motorway network to the local allocation of parking space. Public bodies collect little data on sharing and have demonstrated only passing interest in the role of sharing cars and sharing lifts or rides. The failure to integrate the sharing of cars into transport policy is limiting and unhelpful, particularly for places where there is not a good set of public transport alternatives on offer.
Some of the evidence we received suggests that, when asked, many people struggle with the idea of giving up their cars or sharing vehicles. It seemed to follow then that sharing might be too difficult in policy terms. We believe that these answers come from asking the wrong sort of question. People already share their mobility today quite extensively. They used to share more, even in the recent past. And there are places where greater levels of sharing are normal. Some activities involve more shared transport than others. The exam question is not "Can you survive or not without a car?" but, rather "What needs to happen to enable greater levels of sharing to happen?" and "What sorts of innovations need to be in place so that not owning a car (or two cars) does not mean missing out on accessibility?" The data suggests that vehicles are utilised for only very small amounts of the week and that there is great potential to share assets and journeys more. But it will not happen in the absence of a set of policy commitments to bringing it about. We contrast the ambivalence to sharing and the perceived difficulties of it with the positivity and investment around automated vehicles, despite the manifestly more complex issues which arise from that transition.
The report sets out 20 recommendations which will support the evidence base around shared mobility, deliver more meaningful innovation trials and deliver a step change in the policy framework and incentives which sit around sharing mobility. Some policies are simple, such as making Highways England, whose networks carry around 32% of car miles each year, responsible for first monitoring vehicle occupancy and then facilitating a growth in it. There are significant network management as well as carbon benefits to be had. Others are more complex such as addressing the incentive system around multiple vehicles in a household or how to cross-subsidise greater provision of shared mobility in rural areas. There is no 'one-size fits all' approach but there are some actions which will have universal benefits such as redoubling efforts to reduce business miles driven in older private cars and to use the fleet assets of the public sector to reduce wastage and open up greater opportunities for shared access.
This report comes with two clear warnings which make the adoption of policies to support sharing yet more important. First, we see potential headwinds of lower motoring costs for many, due to electrification. This creates a real risk that transport will continue to become less shared. In the absence of any corrective policies, this will lead to substantial traffic growth according to the Department for Transport's (DfT) own forecasts. Second, such growth risks being compounded by the adoption of increasingly automated vehicles. Early estimates by the DfT suggest that in a shared model, such innovations could reduce future traffic growth to just 5% by 2050. In a more individualised model the growth could be as much as 55%. In essence, unless we deliver on sharing, our creative capacity for transport innovation could simply support the delivery of a more individualised transport system which creates higher demand futures.
There will be those who will find sharing a difficult policy sell. Of course, continuing the current weak commitment is an option. However, we would ask "If not sharing, then what? What policies will reduce the energy requirements of building the vehicle fleet, even when it is electric? Which policies will enable both short-term and long-term carbon pathway compliant transport policy? What makes other policy options more palatable than a major focus on increased sharing?" Doing nothing is no longer an option, we are in a climate emergency.
Whilst the Commission on Travel Demand holds no formal position in the policy system, its findings represent the considered synthesis of experts in the field. Its aims are to change the nature and pace of action on decarbonising transport. We hope that this report will create a globally leading environment in which innovations to accelerate sharing can flourish. Our report makes recommendations to the Department for Transport, the Committee on Climate Change, HM Treasury, Connected Places Catapult, Highways England, local government and companies involved in this space. We will host a summit a year on from publication of this report where we look forward to reviewing progress in the field.
Evidence graphics
Click on the image for a pdf version.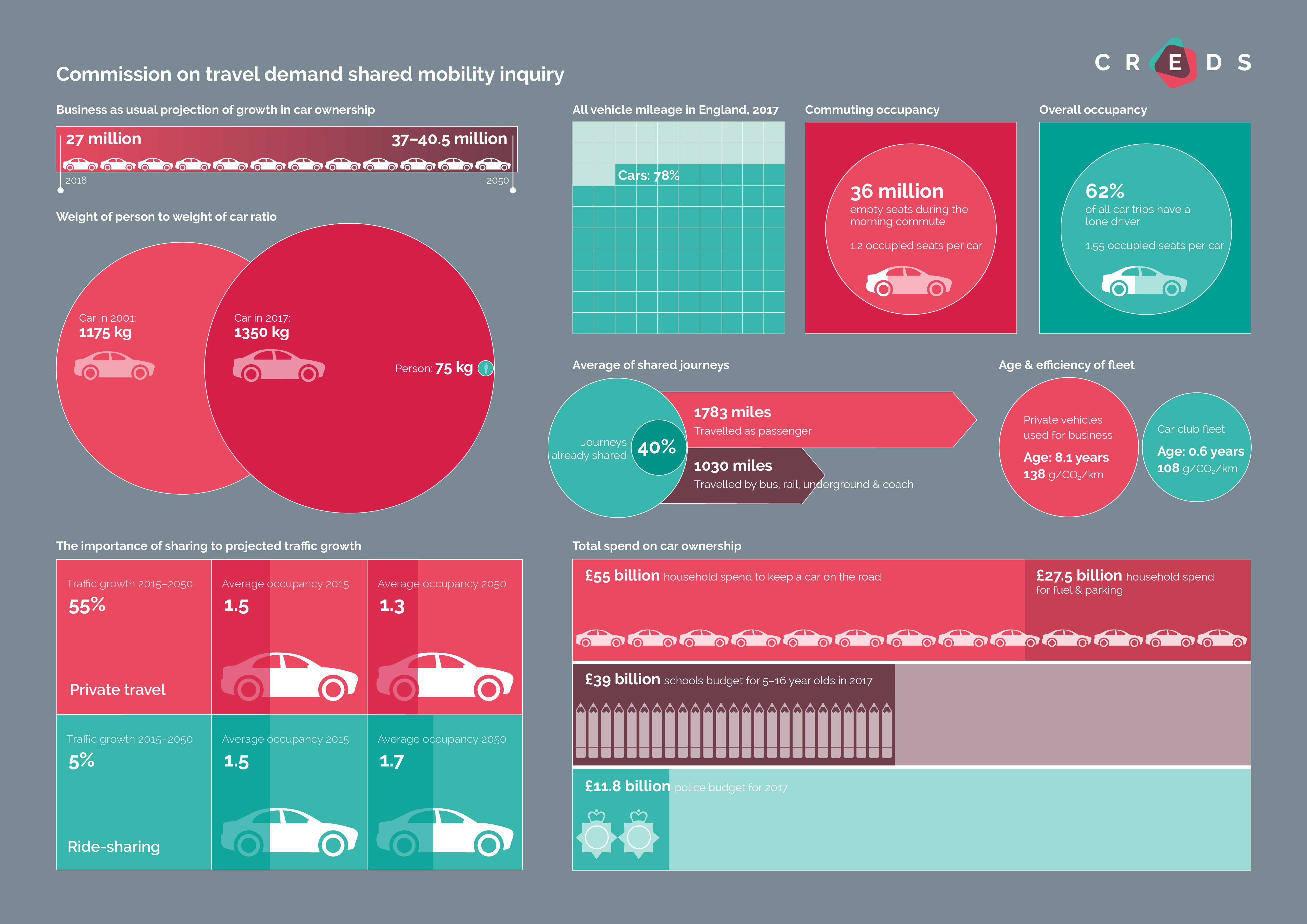 Recommendations
Recommendation 1: We recommend that shared mobility options are placed within a road user hierarchy which is directly linked to the public policy outcomes they can deliver.
Recommendation 2: We recommend that the Department for Transport and Committee on Climate Change study the potential for saving carbon through greater shared mobility in time for the 2020 Progress Report to Parliament.
Recommendation 3: We recommend that the Department for Transport work with CoMoUK and other relevant bodies to develop a data collection and repository process to ensure it understands the case for and impacts of interventions in this space.
Recommendation 4: We recommend that future research programmes on sharing focus on understanding when and how sharing works and what is required to grow and sustain shared mobility and through this understand how to overcome barriers for different users.
Recommendation 5: Shared AV projects and pilots should be prioritised in all publically funded research and innovation related to the AV agenda.
Recommendation 6: The Department for Transport and HM Treasury need to set out a vision for the transition to a smaller vehicle fleet.
Recommendation 7: We recommend that regional or local transport bodies establish a shared mobility strategy with a goal of reducing individual vehicle ownership and promoting access to a cleaner fleet.
Recommendation 8: We recommend the piloting of mobility hubs in new developments to deliver good practice guidance and workable standards.
Recommendation 9: The Department for Transport and HM Treasury should commission an options review to develop a more coherent, consistent and fairer system of incentivising lower vehicle holding per household.
Recommendation 10: We recommend that a range of different vehicle ownership futures form part of any future road traffic forecasting exercise.
Recommendation 11: We recommend that the Department for Transport amend the performance metrics for Highways England to require them to monitor car occupancy levels and to have a responsibility to increase them.
Recommendation 12: We further recommend that Highways England, in partnership with local transport authorities and car sharing companies, develop a series of pilot schemes with high quality interchange designs to encourage safe car sharing across their network. This should be part of Highways England's core spend from the Department for Transport. It should be accompanied by a major programme to build communities of users around the system.
Recommendation 13: We recommend that the Department for Transport provides seedcorn funding for a range of trials to encouraging building shared mobility practices.
Recommendation 14: The Future of Mobility White Paper on rural mobility should specifically address how to maximise the potential for shared use of public sector fleets and procured services to enhance shared mobility.
Recommendation 15: We recommend a rapid evidence review be commissioned of the benefits of public sector and private sector car pooling arrangements to identify the scale of potential operational and emissions benefits as well as the wider community benefits.
Recommendation 16: We recommend that an ambitious target for public sector car sharing and reductions in grey fleet mileage be set by 2021 and monitored by the Committee on Climate Change.
Recommendation 17: We recommend that the Future of Mobility Regulatory Review explores mechanisms which could generate cross-subsidy between more and less profitable areas and which allow for easier models of public-private funding to be used to broaden the areas covered by new mobility services.
Recommendation 18: We recommend that the Committee on Climate Change reviews the evidence on workplace travel schemes and examines the potential for greater behavioural shifts if commute emissions were brought into Scope 2.
Recommendation 19: We recommend that the Connected Places Catapult explore, with both governmental and non-governmental parties, a range of models for transitioning from pilots to full applications.
Recommendation 20: We recommend that the Future of Mobility Regulatory Review pays particular attention to the different aspects of data governance that relate to shared mobility.
Commission on Travel Demand
Erratum
Report updated on 7 October 2019 correcting erratum on page 10.
Publication details
Marsden, G., Anable, J., Bray, J., Seagriff, E. and Spurling, N. 2019. Shared mobility: where now? where next? The second report of the Commission on Travel Demand. Centre for Reseach into Energy Demand Solutions. Oxford. ISBN: 978-1-913299-01-9
Banner photo credit: Alireza Attari on Unsplash